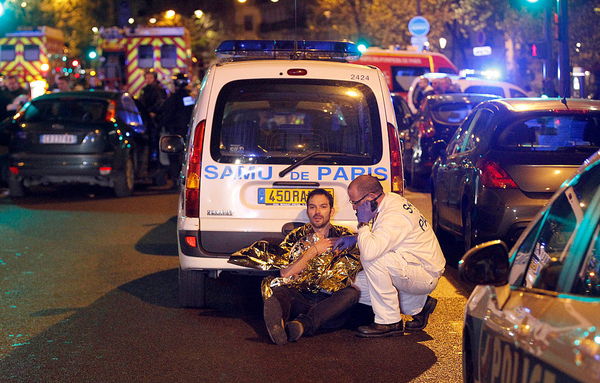 Af Giulio Meotti –  Oprindeligt udgivet af Gatestone Institute. 
Frankrig mindes ofrene for terrorangrebene den 13. november 2015. Hvad har man udrettet i de to år siden angrebene?
De franske myndigheder sender 64 millioner euro i kompensation til mere end 2.500 ofre for jihad-angrebene i Paris og Saint-Denis. Terrorbekæmpelsesstyrkerne har også opnået vigtige sejre. Ifølge ugemagasinet L'Express har man de sidste to år forhindret 32 terrorangreb, konfiskeret 625 skydevåben, undersøgt 4.457 personer mistænkt for at have jihadistiske forbindelser, og 752 personer blev sat i husarrest. Det generelle indtryk er imidlertid, at det er et land, der "opløses indefra".
Da to franske piger blev myrdet af en islamist i Marseille i sidste måned, skrev kommentatoren Mathieu Bock-Côté, at Frankrig oplever "et forløb med national og kulturel opløsning, som myndighederne har besluttet at følge og forvalte uden at hævde, at de bekæmper og overvinder det, som om det var uundgåeligt". Han ser ud til at have ret.Den spanske anti-fascistiske journalist Manuel Chaves Nogales flygtede i 1939 til Frankrig, hvor han bevidnede Frankrigs sammenbrud som følge af tyske angreb. Hans bog L'agonie de la France ("Frankrigs lidelser") kunne have været skrevet i vore dage. Nogales skrev, at mens de tyske soldater marcherede gennem Paris' gader, vrimlede franskmændene ud af biograferne "lige i rette tid til en aperitif på bistroen".
Den foregående franske præsident, François Hollande, prøvede ikke engang at blive genvalgt; Hans efterfølger, Emmanuel Macron, nægter at tale om islam og virker til at acceptere den permanente overgivelse til en tilstand af frygt og nødsituation. Den franske hær formåede ikke at befri Raqqa i Syrien, som den havde lovet efter angrebene. "Frankrig vil ødelægge ISIS", sagde Hollande efter massakrene i Paris; men det blev USA og kurdiske styrker, der befriede Islamisk Stats de facto hovedstad. 15.000 franske islamister overvåges nu af den franske efterretningstjeneste. I mellemtiden er 40.000 jøder flygtet fra Frankrig i løbet af de seneste ti år.
Almindelige franskmænds sikkerhed kan ikke længere garanteres. Islamistisk vold kan opstå hvor som helst og ramme dem, der bærer en uniform og dem, der ikke gør. Alle franske borgere er nu mål i en krig, hvor alt er tilladt for de islamistiske terrorister.
I Frankrigs parlament er de "islam-venstreorienterede" stemmer blevet stadigt mere frimodige. Den politiske klasse underholder sig selv med "inkluderende tekster" i skolen; in vitro befrugtning for singler og homoseksuelle og straksbøder for "sexistisk" chikane. Ingen af de franske terrorister, der tog til Syrien for at halshugge, har mistet deres statsborgerskab. Magasinet Charlie Hebdo får nu påny dødstrusler, og der er ingen større franske medier, der har udtrykt solidaritet med deres myrdede kolleger ved at tegne islamiske karikaturer. Ofrenes pårørende udgav bøger med titlen I får ikke mit Had. Mange intellektuelle er blevet trukket i retten på grund af påstået "islamofobi".
I mellemtiden er ingen af de islamistiske enklaver inden for den sekulære republik blevet vundet tilbage, og kun 19 salafistiske moskeer er blevet lukket.
Det franske parlament fandt det for nylig påtrængende at fratage politikeren Marine Le Pen hendes immunitet, efter at hun havde tweetet billeder af ofre for IS, herunder et af den amerikanske journalist James Foley. "Daesh er DETTE!", skrev hun som ledsagetekst til billederne, idet hun brugte den arabiske forkortelse for IS. Det vil sige at et land, der har lidt under Islamisk Stats drab på 250 borgere, fjernede den politiske beskyttelse af en leder, der allerede er under politibeskyttelse, fordi hun spredte billeder af ofre for Islamisk Stat, og de åbnede herved døren for hendes forfølgelse.
Fader Jacques Hamels martyrium for islamisters hånd er allerede glemt; Stedet, hvor massakren fandt sted, afventer stadig et besøg fra Pave Francis som tegn på kondolance og respekt. Franske dommere har nu travlt med at fjerne kristne symboler fra landskabet: I Ploërmel blev et kors over en statue af Pave Johannes Paul II i sidste måned beordret fjernet, da det hævdedes at være i modstrid med adskillelsen mellem stat og kirke.
Paris' borgmester Anne Hidalgo forbød for nylig byens største julemarked, da det ikke var stilfuldt nok. Frankrigs myndigheder og elite ødelægger stykvist landets historiske, religiøse og kulturelle arv, så der ikke er noget tilbage. Et land, der er blevet frataget sin identitet, får sin indre styrke knust. Samuel Pruvot, der er journalist ved Famille Chrétienne ("Kristen Familie"), hævdede for nylig, at kristendommen i Frankrig snart vil være at finde på "museer".
Fransk kultur er i de seneste to år blevet mærket af "følelsen af verdens undergang". Intellektuelle fra både venstre- og højrefløjen har udgivet essays om "Frankrigs selvmord", landets "dekadence" og dets "ulykkelige identitet". Dette er fremragende og vigtige udlægninger af det franske samfunds nuværende tilstand. Der er nu brug for, at Frankrig kommer ud af sin sorg. Landet skal vise styrke – viljen til sejr.
Frankrig skal nu begynde at kæmpe den ideologiske krig, der er den vigtigste kamp næst efter arrestationer og beslaglæggelse af våben. Hvis Frankrig ikke gør det, vil den 13. november 2015 blive husket som den dag, hvor Frankrig, som sociologen Shmuel Trigano udtrykte det, "leverede ofrene for at undgå at kæmpe mod morderne".
Giulio Meotti, kulturredaktør på Il Foglio, er italiensk journalist og forfatter